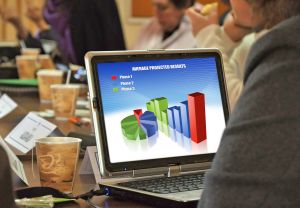 Gold has always been a world standard when it comes to wealth and now, it has become a common way to trade gold online in order to gain some considerable profit from this precious metal.  Investors can earn some profit from trading gold with the recurring rise and fall in the price of this commodity just as much as how it does with others.  Investing in this precious metal can also offer a more stable form of investment if you trust in the rising value of gold over time. With the rising prices of gold more investors are participating online in gold day trading, and holding it for long term investing.
There are several ways in which you can trade with gold online.  You can either have or own the physical gold itself or open an account with an online trading company that deals with gold. Once you have an account, you can begin trading in gold online. An account will allow you to trade with gold.  You would need to provide sufficient funding of course and also a broker to guide you through the whole process. Some online trading companies that you can look into are Trade King, Scottrade, and Ameritrade.  They are the leading companies who will allow you to have an account for gold trading.
You can own shares or stocks in gold ETF, in gold mining corporations, or in mutual funds. There are several types of investments that deal with gold so you would have to choose which of those would fit your standards or options. ETFs or exchange traded funds are more in touch with the current market price for gold as they have actual gold backing up the trust funds.  You can also opt for stocks in gold mining companies which has a greater chance of having major profits in slight changes in the value of gold.  But you can also lose a lot from investing in it.  You can also engage in future contracts. These are the ways in which you can earn some profit by investing in gold and by trading them online.  The process is now much easier as you would only need to click to buy and sell but still the risks are there so you would need to really think your options over.
Being educated and well-informed about online gold trading will help you a lot when you begin to trade.  There a lot of sample accounts that you can take for you to have an overview of what it is like to trade with this precious metal. This way you don't have to worry about losing money while you learn the system. The varying investments that you can make in gold trading can also make it more exciting to trade.
Profit can be gained depending on how high the price of the commodity goes. If it increases over time and you take the right timing to sell your gold, then you may get some really handsome gains. But who can really tell where the price of gold will go?  If you will look back in history, you will see that it had its major ups and downs so everything you do should be timed appropriately to changing market conditions. Investors always seek to buy low and sell high, however many online traders are more than happy to buy within 10% of the bottom and sell within 10% of the top.
[ad name="Content"]
You can get started in minutes buying gold bullion in your own online portfolio. One of the most highly trusted websites to get started is called the Bullion Vault. With this company the more you trade the less your commission rate is, with a starting maximum commission rate of 0.8%. As of this writing Bullion Vault will even start you off with one gram of gold in your account, so there's really no reason not to sign up right now.