There is often opportunity to profit when you buy dental gold but you should do so with utmost discretion.  Not everyone who sells this type of scrap gold in the market, especially those that you might call "middlemen," are that reliable or trustworthy.  Some of them have the capacity to misrepresent information on the web and you may end up being at the losing end of the bargain. This does not mean that you need to be afraid each time you enter into a gold selling transaction, this is aimed to serve as a warning before you make your first gold purchase.
Often people tend to overlook the fact when thinking about investing in gold that their is a huge amount of dental scrap being traded everyday.  This can be due to the fact that we usually think of gold as an ornament such as a gem-studded ring or long chain of necklace.  Hence, some may end up competing for precious metal opportunities along with thousands of others; all the while missing out of this hidden market.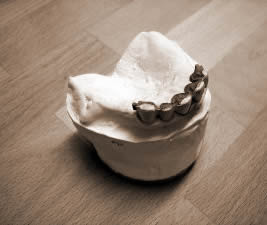 Much of the reasoning behind this is simple. On the face of it you may believe that not a lot of people would be willing to sell their dental gold.  It also could be due to an image of an embarrassing situation that may arise when you sell dental gold, which often comes with a tooth.  It can also be due to the idea of dealing with a tooth that is too old, brittle, or the gold filling may have added impurities in it.
Buying dental gold online can be pretty disconcerting also as you cannot see the actual item that they are selling.  Some may provide pictures of what they have but this can be a very misleading thing as the amount of gold that you can find in dental fixtures varies from one to the other depending on the amount of material that was needed.  Also, the "gold" contained in it is alloyed with other metals in order to make them strong and durable. So, it can be said that online buying of dental gold can be risky if you are not careful. However, with all that said there still remains an excellent opportunity to find great bargains on dental scrap and turn it in to a nice profit.
To be successful purchasing dental scrap gold you will need to be very knowledgeable about the current spot price of gold. The spot price, also known as the wholesale rate of gold, fluctuates twice a day. Knowing the price is part of the equation you will also need to know the weight and quality of the gold you are interested in acquiring. Pay close attention to how grams the gold weighs and its purity. You will want to find out whether the gold content is 16-karat or something less or more. Some of the common dental scrap you can find include: Gold Crowns, Dental Sweeps, inlays, onlays, caps, PFG's & PFM's (Porcelain Fused Gold and Metal(, and bridges. It is important to note that it can be tricky to know the exact amount of gold content in these items. Many acid tests and electronic testing equipment can provide invalid or questionable results. If you find a seller that is representing pieces of scrap at a high-karat value, you can help limit your availability to loss by making sure they offer some sort of guarantee.
Before making any purchases it is a good idea to check and find out what other traders in the market are buying and selling at. One way to do this and also find a potential seller in the market is to contact dentists and ask them if they have unused scrap metal they are interesting in selling. A good place to start is with your own dentist who may be more than willing to give you advice and suggestions. You could also consider asking any dental professionals you contact if they would consider letting you pay them a finders fee for clients who have kept their dental gold. Another way you can discover scrap dental gold buying opportunities is through online auction sites like eBay, or possibly even your local Craigslist. In addition to searching classified sites for people interested in selling, you can also use these sites to create your own listing. By placing advertising for people willing to sell their scrap in the "Want to Buy" section you may be able to locate potential sellers.
If you wish to make a business out of buying dental gold, then you may as well have your own refinery.  This is if you want to avoid paying for charges, which you have to pay for if you wish to acquire the gold which is contained in it.  Having your own refinery will guarantee lower processing costs for you as well as higher returns for your gold.  The more dental gold that you buy, the more profits will you get. With the price of gold continuously rising in the market, buying dental gold can surely be your road to success.