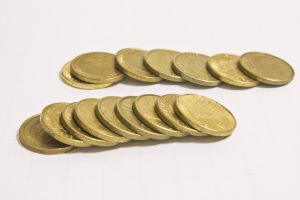 Interested in buying gold coins in India? India is one of the top consumers of gold in the world so it is little wonder why they have a large amount of gold sold in the market.  Gold is considered as a part of Indian life since it serves various purposes from a person's birth up to his death especially during marriage where the bride and groom are both required to present some gift to each other – gold being considered the best of them all.  The Indian market has a lot of special boutiques and shops which sell gold just like they sell peanut on the market.  The abundance of supply and the many skilled artisans that can be found especially on the capital on India contributes to the high availability of this metal in the market.
Gold coins however are a different thing.  Indian coins have not been used in circulation for a long time now and has if you are looking for a rare antique gold coin, you may need to have a guide with you who specializes in identifying genuine gold coins from the fake ones.  There are a lot of sellers of such things in the market and you may never know when the coin is real or not.
So to make sure that you are getting a genuine gold coin, you should buy them from banks.  Gold coins are sold in four, five, eight, 10, twenty, and 50 gram variations in Indian banks.  Most of them are made of 24 Karat gold hence it is rare to buy something lower than that.  The banks that you can buy them from are the Bank of India, which is its national bank, and the Bank of Baroda which is of international circulation. As of this date, the coins are priced as follows: 4 grams = INR 11, 630; 5 grams = 14, 573; 8 grams =23, 102; 10 grams = 28, 914; 20 grams = 57, 285; 50 grams = 139, 765.
There are also gold retailers and local jewelers which deal with gold Indian coins which can be found through its various dealers – and you can buy them at a lower price – but the assurance of the genuineness of the coin is at stake.  Although these dealers put a lower cost upon gold, some of them do not put a premium on selling real, authentic 24 Karat gold coins.
[ad name="Content"]
If you would be buying gold coins from such sellers, you should be ready with sufficient knowledge about how the buying is done with such agents.  You should know what they have in store and how much the present market rate is for such gold coins.  Some may even tell you that they have some rare old coin but always be on your guards for such trades.  Knowing somebody in the area will be a good thing since they will be the ones to know if these traders are selling real coins or not. But the best way to buy your gold coins would still be through the national and international banks in India.