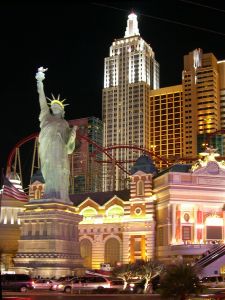 For some, it may not come that easy to find a reliable and trusted gold dealer in the city of Las Vegas.  With gold being a highly priced metal today, more and more people are thinking of it as a way to protect their wealth and investments.  There are a lot of ways with which you can purchase or acquire the precious metal in Las Vegas.  You can get them through pawnshops, jewelers, gold coin dealers, and even from a vending machine.  You will definitely find a lot of dealers for gold in Las Vegas and it would not take long for you to get your gold.
The easiest way for you to get gold bars or coins would be the vending machine at the Golden Nugget Hotel and Casino which dispenses 1 up to 250-gram bars and gold coins.  This can be said to be a revolutionary way with which people can now get this precious metal in a flash. No need to present identification or any other paperwork.   Although the prices for the stuff may be quite higher than from the average gold dealers, it will still be one of the fastest way of acquiring gold in Vegas.
You can also get gold coins from the Sahara Coins which is one of the long-standing gold coin dealers in Las Vegas.  They virtually have almost any type of gold coin that there are in the world from international coins, commemorative coins, old coins and bullion coins.  You can also find some helpful literature regarding gold coin collecting at their store which will help you navigate through the world of gold buying. If you would like to have gold jewelry instead of bars and coins, then you can visit John Fish Jewelers which specializes in designing gold jewelries from gold rings to necklaces and bracelets.  You name it, they will either have it or make them for you. You can also check out the LV Jewelry Exchange which also creates exquisite jewelry pieces for clients.  You can also bring old or broken jewelry to exchange them for newer ones.
Whichever way you decide to go, you can literally find a precious metal dealer in almost any corner in Las Vegas and all would depend upon the form of gold that you would want to collect. Las Vegas will definitely be able to provide you with enough choices for your gold purchasing needs. As always doing proper research on the current price of gold on the market and the value of the item you wish to purchase will give you a good idea if the price being offered is a bargain.
[ad name="Content"]
Here are the locations where you can buy gold in Las Vegas:
Sahara Coins
7293 W Sahara Ave. #106
Las Vegas, NV 89117
(702) 367-4360
John Fish Jewelers
(702) 879-2422
953 E Sahara Ave, #B5,
Las Vegas, NV 89104
Email: contact@johnfishjewelers.com
LV Jewelry Exchange
702-605-6916
4850 W Flamingo Rd Suite 49
Las Vegas NV 89103
www.jewelrybuyer-lasvegas.com/