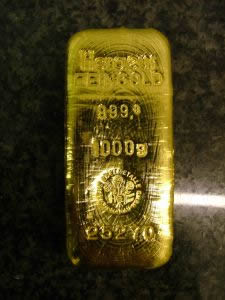 The investor interested in purchasing gold in Canada has many different investment options. Canada is one of the richest countries in the world. Before it has been a rural economy, but due to the increase in demand such as mining, manufacturing and service sectors, the First World country, Canada has changed into an Industrial and Urban nation. Mining has been a growing Industry for Canada. In fact Canada has been leading in the exportation of minerals and metals such as potash and uranium. When it comes to valuable minerals such gold, silver, copper and lead, Canada has been ranked as the fifth largest exporter. As one of the largest gold exporters in the world, Canada has a vast variety of gold investment methods available to investors of all types.
Buying gold in Canada is easy as buying this precious metal in other places say Australia, the United States or the United Kingdom, probably because of the country's rich resources. However, gold in Canada has much more value than its international counterparts. Canada has its own mining ground, and the Canadian do not mix anything or any metal on the gold that they mine thus giving out a 99.9 percent or 24 karat gold. When buying gold, do remember that this metal comes in different forms like bullions, coins or bars, and also they come in different sizes and value. Each gold coin, gold wafer, and gold bar has been marked with an official stamp for legitimacy. The Canadian Gold Maple Leaf, which was first produced by Walter Ott in 1979, is the country's official gold bullion coin. When purchasing for gold, many invest in this coin as this is the purest gold, without any hints of alloy. Some gold collectors try to obtain this coin because of its intricate and magnificent design. The Canadian Gold Maple Leaf could be traded from gold dealers around the world and is extremely popular in India and the Far East.
Apart from knowing the different forms that gold comes in, when buying gold, there are a few guidelines that one must remember. The primary supplier of gold is the Canadian government. The Royal Canadian Mint manufactures largely every gold coin of the nation, and even of other countries. The Royal Canadian Mint is known for the highest standards of its productions, one of which is the Canadian Gold Maple Leaf. The Royal Canadian mint produces rare collectible coins and even manufactured a coin that is worth a million dollars at face value. The coin was designed by an artist named Stanley Witten in the year 2007. This rare million-dollar gold Maple Leaf coin is one of the most sought after collector's item in the market today.
If you want to purchase gold from the Royal Canadian Mint you can do so atone of its bank branches found in Vancouver, Winnipeg and in Ottawa where its headquarters are located.  Another reliable source for gold is the Scotiabank in Canada which involved in buying and selling the precious metal.  One can get his gold by going to any of the branches of these banks anywhere in Canada. These are the surest and most secure way of getting genuine gold in Canada as banks are the most reliable source of gold especially those which contain a higher karat. The mint produces gold coins and bars that has been extracted from the mines of Canada itself.
The Royal Canadian Mint in Ottawa is located at 320 Sussex Drive while the one in Winnipeg, Manitoba is located at 520 Lagimodiere Boulevard.  The mint produces some rare gold coins that are ideal for collection and also  jewelries and souvenirs.
The facility in Winnipeg features a modern and stylish design which has become some sort of attraction for tourists as well. The headquarters is where most of the production process of minting is done hence it is here where one can truly get freshly minted coins. They also produce other types of gold products even medallions and other fine jewelry.  They have also engaged in watch-making.
The standard gold coin of Canada is the Canadian Maple Leaf which has come in a variety of beautiful designs for the more than a hundred years that it was produced in the mint.  Gold has seen a significant increase in value, 19.7%, compared to other gold-producing countries such as Australia.  The Canadian Maple Leaf also contains the purest amount of gold that can be found in a gold coin – 999.99%.  Canada is one of the producers of the finest type of gold coin in the world and this is the reason why they have become popular in Asian countries such as the United Arab Emirates and India which are both known to be large consumers of gold products.
As of September 27, the Canadian gold had a spot value of $1,695.11 US.  The value of half-ounce gold coins was $965.00, a quarter for $499 and a tenth of an ounce for $204.67; these values were taken from several gold dealers and banks around Canada. Once can buy gold bars also in the mint which come in 1 ounce, 5 ounce, and 10 ounce bars, 1 kilo bars and also in trade bars. Coins can be bought at 1/20,1/10, a quarter and in one-half ounces as well. The value of gold has been rising continually for the past few days and  so has the value of Canadian gold in the market.
[ad name="Content"]
Apart from the Canadian government, there are certified gold dealers that circulate the country. These gold dealers would not only help you in finding that precious metal, but also assist you in buying gold. Some of these dealers can be found online. One of the online dealers is goldmoney.com, they would hand you a title with your name and would safely secure your gold in Switzerland or London. Another gold dealer is kitco.com, it put up for sale gold bullion bars and coins. Another gold dealer is colonial acres.com, they sell bullions that are available for orders. Aside from these online dealers, there are others that would help you in buying gold, after all purchasing this metal is easy in Canada. It is just as easy to buy gold in Canada as in other places such as the US and the UK.