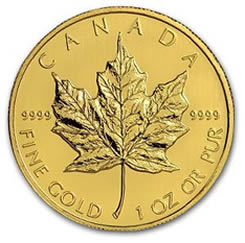 Canada's official mint, the Royal Canadian Mint, produces all of the Canadian gold coins that can be found in this country.  The most famous of these coins being the Canadian Maple Leaf which is not just one of the best kinds of gold coins in the world today due to its purity and beautiful design, it is also one of the most popular in the world which has become a bestseller among other types of gold coins. The coin was first produced by the mint in 1979 and since then has become one of the more popular types of gold coins in the world. They were made from 24 karat gold which is higher than the then famous Krugerrand from South Africa.
A Canadian Maple Leaf is made from 24 karats of gold and can be bought in differing weights such as one ounce, one-half ounce, quarter of an ounce, and one-tenth of an ounce. They usually come in packs of ten and are contained in a plastic tube that holds the coins. They are considered to be one of the best coins when one is thinking about investing in gold as they are much easier to store as they need less space for it. They are also easy to count as they come in sets of ten. This type of selling allows one to buy these coins at a lower premium and mark-up than when you buy individual coins and also smaller-sized coins. One problem that you may have with these coins is the softness of the coin, due to their composition, which is more readily scratched or dented if ever they are mishandled. So getting them in or out of the tube would be quite a trouble. You would need to be more careful with it than with other gold coins.
With the Canadian gold coin being in circulation now for almost one hundred years, its continued popularity among coin collectors just testifies to the coin's prestige as a foremost gold coin in the world. But aside from this famous coin, there are still other coins which the mint produces annually and which has won several awards for their design. There are the commemorative coins for the Queen and also for the wedding of Prince William. There is also a commemorative coin for national parks and famous athletes such as the Gretzky coin, and also coins containing the image of some of Canada's wildlife.
[ad name="Content"]
There is also the Canadian five-dollar coin which can be said to be still a part of the British period. Due to the age of the coin, it is highly valued among collectors. It is made from a lower karat of gold and has an engraving of King George V.  The mint has recently released a centenary coin celebrating the hundredth anniversary of the creation of Canada's first gold coin. It has a face value of five hundred dollars and is made from 24 karat gold. There is also a 14-karat gold coin which commemorates the making of Canada's first ever railway.