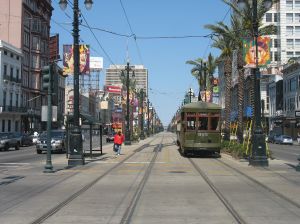 If you are looking for instant cash, you need to look for gold dealers and buyers in New Orleans who will pay you with the best prices for any scrap or unwanted precious metal items that you may have.  Today, with the sky-high prices for gold, it is no wonder that selling these valuables can be the solution for any financial problem that you may have.  A lot of gold dealers are trying to get people to sell their items to them without paying fair and honest prices so you have to be wary with who you are going to deal your gold with.
Our suggestion is for you to visit any of the following stores:  the New Orleans Silver and Gold Exchange, the Quarter Smith and the Blanchard and Company Inc.  These establishments are definitely gold buyers with good backgrounds and will give you professional and skilled services in appraising your gold for their value.
The New Orleans Silver and Gold Exchange boasts of their honest and exact estimates for gold items such as old jewelries, coins and other flat wares.  They are also a mobile gold dealer which means that they can personally bring their services to your home if you cannot visit them at their store. You only need to schedule an appointment with them by calling their office phone.  Having highly experienced metal testers and buyers, they are considered by many as one of the best gold buyers in New Orleans.  The appraisal for any gold item that you bring is free and they will not force you to sell your gold to them if you are not happy with the price that they will give you.
The Quarter Smith is an established jewelry retailer and buyer which has been operating since 1978.  They are a premier jeweler and buyer of gold and other precious metals so you can rely on their expertise when it comes to dealing in gold. The owner of the store himself has been a long-time goldsmith and gemologist who knows and understands exactly what he has to deal with when buying gold.
Blanchard and Company Inc. is of course the largest and most respected dealer when it comes to gold.  With its owner being a pioneer in gold investing, one can never underestimate the type of service that this company can bring.  The owner being one of those who has moved for the restoration of the right to private ownership of gold in the US, they definitely know how to deal effectively with precious metals.
You can sell gold in New Orleans at the following locations:
New Orleans Silver and Gold Exchange
1517 St. Charles Ave
New Orleans, LA 70130
neworleanssilverandgold.com
504-858- GOLD (4653)
Blanchard and Company, Inc.
909 Poydras Street, Suite 1900
New Orleans, LA 70112
1-800-880-4653
The Quarter Smith
535 Saint Louis St
New Orleans, LA 70130
www.quartersmith.com
504-524-9731
Causeway Coin Co.
3023 N. Causeway Blvd.
Metairie, LA 70002
504-832-8050
De Boscq Jewelry
2602 Florida Street
Mandeville, LA 70448-3557
985-674-0007
Videos of gold buyers in New Orleans:
Coins and Gold Metairie
De Boscq Jewelry