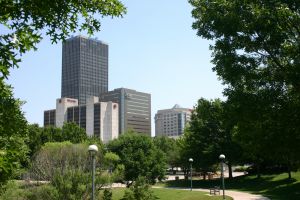 Finding reliable dealers and precious metal buyers in Oklahoma City is really not a difficult task to do if you know what things to look for in a prospective gold buyer.  Many people have become a victim to unscrupulous buyers just because they did not take the time to find out the best ways to locate a trustworthy gold buyer in town.  What it takes is a little research and shopping around to know what are the prices the different gold buyers are willing to pay you for your precious metal items. This way, you would be better informed about the market for gold buying and be able to get the best price.
There are several gold buyers in Oklahoma City which has passed the standards of the Better Business Bureau and have received good recommendations by their customers.  Some have had a long time of experience in gold buying and have better capabilities of giving you a good price for your gold. One of the best places where you can sell unwanted, old gold jewelries and coins is the Oklahoma City (OKC) Gold Buyers.  They are the local buyers of gold which has a professional background and are also equipped with the best facilities for appraising your gold.  They saw the need for a local precious metal buyer in Oklahoma whom people can go to whenever they need to sell gold.  It used to be that sellers often had to mail their valuables to other states who offer mail-in options for those who would like to sell them in Oklahoma.
There is also the Gold Buyer Oklahoma, which is backed by the Dakota Financial, Precious Metals Division.  They have high-end facilities and also convenient locations which have strict security measures to ensure your safety.  The transactions will absolutely be private and they will inform you about the appraisal procedure while they show you how it is done.  One of the best things about this  buyer is that they give you a certain percentage for every referral that you will do for them. Both of these businesses has been given an good rating by the Better Business Bureau and they are also members of recognized associations for gold buying.  You may need to schedule an appointment before you go to their locations if you prefer that but you can also just go to them to have your jewelry and any other precious metal item appraised. They will offer you a price for your gold and will not intimidate you into selling it to them if you do not like it.
List of where to sell gold in Oklahoma City, OK:
OKC Gold Buyers
7390 S. Walker Ave., Suite H
Oklahoma City, OK 73139
Info@OKCGoldBuyers.com
Website: okcgoldbuyers.com
405-639-4653
I-44 Gold Buyers
815 SE Interstate Drive
Lawton, OK 73501
580-704-2274
Gold Buyer OK
3001 NW 39th Expy,
Oklahoma City, OK 73112
(405) 943-2800
American Coin & Jewelry
4347 SE 15th St,
Oklahoma City, OK 73115
405-619-0019
Alan Gordon Fine Jewelers
6517 N May Ave,
Oklahoma City, OK 73116
405-848-1688
Scott Gordon Jeweler
6301 N Western Ave Ste 250,
Oklahoma City, OK 73118
405-843-7856
Valley Goldmine
3600 N.W. 138th Suite 102
Oklahoma City, OK 73134
405-796-4993
Norman Gold & Diamonds
516 N Porter Ave,
Norman, OK 73071
405-364-4653
Videos of gold buyers in Oklahoma City, OK:
Oklahoma City Gold Buyers
GoldBuyerOK