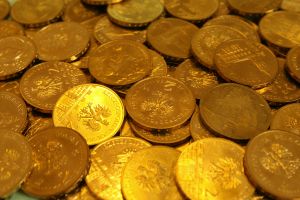 Gold Futures continued to increase in value today well above the $1500 an ounce level on news of a weakening dollar and in anticipation of the long Easter weekend. The markets will be closed this Friday in observance of Good Friday Easter holiday.
Stephen Platt, an analyst for Archer Financial recently said, "The dollar is the major motivator there right now." Another analyst named Tom Kendall of Credit Suisse said, "We've seen the dollar weaken pretty much across the board this morning, even against the yen."
The price of gold per ounce at another record acts $1509.60 while spot gold prices increased slightly. Gold for delivery in June at the Comex division of the New York Mercantile Exchange, added $4.50 or roughly or 0.3% to 1,503.40 an ounce. In total gold prices have gone up 5.4% month alone and is tracking towards the six week in a row of price gains.
Other precious metals such as silver futures for May delivery has virtually exploded in value with gains of $1.21, or 2.7%, for a $45.68 an ounce price. Many investors who consider $1500 amount gold to be too high, are opting to invest in silver to safeguard their wealth.
James Moore, analyst at FastMarkets believes, "there is the risk of deeper corrections across the metals as long liquidation is seen due to the long Easter weekend." However, he expects these possible dips to be seen as buying opportunities for investors.