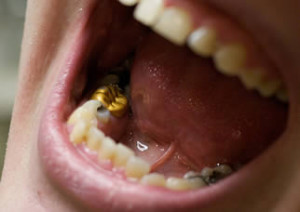 People who wish to sell gold may be interested to know how much of the precious metal is in a dental crown.  Is it worthy enough to sell for you to earn some cash or will it contain such a minimal amount that you will need to sell plenty of dental scrap in order to gain some decent money?  After all, they are not like whole gold teeth which is definitely a good source of money due to the increase in prices.  Dental crowns are more like hollow casings that will contain lesser precious metal materials in them.
First and foremost, you need to understand that not all gold dental crowns consist of the same karat or purity of gold.  Some may contain only 10 to 12 karats while others may be created using higher purities ranging from 18 to 22 karats.  There are no 24 karat dental crowns as the material will become too soft and malleable which would be of no practical use when it comes to chewing.  So the amount of gold that a dental crown contains also depend upon the purity or the metal that was used in its construction.
The next thing that you need to consider is that a gold crown is not 100% pure.  There are other metals which will be mixed with it in order to provide the crown with the strength and durability that it needs.  There are two types of metals which are added to the dental crown mixture.  There are the noble metals, such as platinum and palladium, which also commands a great price in the precious metals market, and there are the base metals, which are comprised of molybdenum, copper, tin, etc. It can be challenging to determine exactly how much of each or any of the metals are contained within without using a smelting process.
Some dentists use a lot of the noble metals in the making of a dental crown as they are a more abundant material than using the precious metal.  This means that it contains a higher amount of these metals compared to the base metals.  Gold by itself, would not be able to withstand all the pressure that will be put into it if it is not combined with other harder metals.  So when you smelt a gold dental crown, expect to find some other precious metals in the assaying result.  This should not be a source of disappointment as you should still be able to collect a lot more of the precious metals than these other type.
A gold dental crown usually weighs about two to three grams each.  You can make an estimate of the actual gold content of the crown if you know what is the karat amount that was used in it. You only have to multiply its weight by the gold purity and you also need to know what the prevailing gold price is in the market.  You can also take advantage of the various calculators which can be found in almost any gold buying or selling website.  With the prices of this precious metal reaching prices of more than a thousand dollars per ounce, you will definitely find a good deal with your 2 or 3-gram gold dental crown. photo attribution: deapeajay