With the time-tested value of gold, it is no wonder why people are now asking how to buy stock in gold.  People are now looking at gold not just as a piece of valuable metal, but also a good commodity where they can earn handsome profits over time.  The chances of gaining profit from the precious metal is so big since the demand for the metal has continuously increased for the past several years.  Getting a hold of gold stocks is now much easier and the process of trading is now also much less complicated in procedure.
Buying gold stocks through the internet is very easy.  What you need to have is an online trading account plus the sufficient funds to start investing.  You can invest in a lot of gold shares such as Gold ETFs, gold mining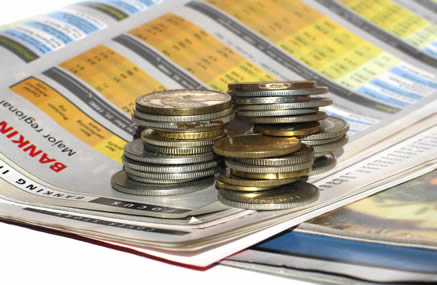 company stocks, and other types of gold scrap company stocks. To buy your gold stock, you would need to have a broker who can facilitate the trade and help you in setting up your gold trading account.  After that, you can proceed in choosing what type of gold stock to invest on and then order them just as much the same way that you order other commodities on online trading platforms.
You can buy gold stocks in these forms: gold ETFs, gold futures, or as shares in gold mining corporations who sell some of their shares to the public. Gold ETFs are a type of gold stock where the price is directly indexed to the current spot price of gold.  The shares have actual or physical gold backing them up.  The two most popular gold ETFs are the SPDR Gold Trust and the iShares Gold Trust.
Gold futures involve getting into an agreement to sell or deliver gold for a fixed price in the future.  If the price of gold falls over time, then you gain a profit.  This is quite risky and may require some experience before you can indulge yourself in it.  Shares in gold mining companies often give you a good chance of getting large gains from the investment but they also entail great chances of losing your money. Some of the leading gold mining companies are the Newmont Mining, Barrick Gold, GoldCorp and Anglogold Ashanti.  They publicly sell their shares and so you can buy from them.
Interest in gold stock investing has risen over the years as people realize what a good investment it can be.  But, even if gold is one of the type of investments which can give you stability and facility of investing, it also requires expertise and sufficient know-how with the trading process itself.  It can be a very exciting experience if you enjoy taking risks but it can also be a very frustrating event if you suffer massive losses.  So, what it all leads to is the amount of risk that you are willing to take at the moment when deciding which type of gold stock to buy.
A popular philosophy exists that when the price of gold rises, gold stocks will often follow. However, before buying gold mining stocks it's important to remember that they are not investments in physical gold. Rather than rise and fall directly with the price of gold, the stocks earning potential depend heavily on the companies ability to turn a profit.  With that said the underlying message is that a gold stock company should be profitable and making money.
Before purchasing any gold stock it's important that you do your due diligence about the company. For mining companies you'll want to find out if they are in exploratory mode or in mining production. Researching the management of the company, their track record, and the political climate in the area they are working will help you get a clear picture as to the viability of the stock. As always consult with a professional stock broker for expert advice.