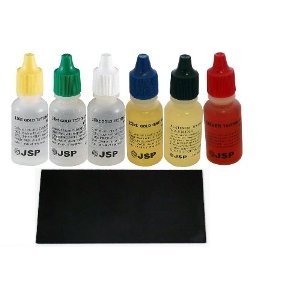 Do you want to find out how to test your gold to ensure you know its quality? Gold buying can be a very risky business as you may be fooled into buying lower karats of gold at a price for a higher karat, or into buying plated or fake pieces of jewelry so you need to know how to test items for their karat or purity.  Although this happens to some people who are not that informed or well-versed about the prices of gold or the karat of gold, this should not be a common event to those who are into gold buying.  There are ways in which you could know if a piece is real gold or not or is a fake or a lower karat of gold.
Oftentimes, gold jewelries or gold bars contain an imprint or engraving of what the gold purity is such as 12k, 14k, 18k, 22k, and 24k or simply "pg."  This method however, can be easily copied by forgers as the engravings are very simple and do not contain much detail or any other symbol.  Hence, a gold ring can be marked to be 24k when it is actually only 14 or 18k and be priced for the higher karat.  This is one way in which you can be scammed when you buy gold items.  Another, is when they place an engraving on a fake or gold plated metal in order to make it look like pure gold.
So how do you avoid being scammed when buying gold?  There are some simple steps which you can do which can really show if what you are about to buy is what it presents itself to be.  The most simple would be scratching the item on a piece of glass.  Gold is much less harder than glass so it should not be making any scratch or marking on the glass.  If it does, then it is a fake.  Another is to try to get a magnet to stick to it or for it to stick to a magnet.  Gold is never attracted by magnets so if it is attracted to it, then it might only be gold plated.  Another way to see if an item is pure gold is by pouring some hydrochloric acid on it.  As you know, it is a very strong acid and will usually dissolve weaker types of metals but not gold.  So if you see any foam forming or any change in the color of the item, then it is a fake. One more common method to test the purity of your valuables is to purchase a gold testing kit.
For the more serious examiners of the precious metal, you may need to buy some specialized equipments such as a gold testing stone, some acids for the different karats or gold, testing needles and also some electronic devices for testing.  The testing stone is black stone in which the item is scratched against.  After that, an acid for a particular karat or purity of gold is poured into the scratch and is observed for any change in color or if it fades after the acid is poured.  Weaker karats do not stand acids for higher karats and so you would know if the item is really what the sellers tells it to be.
Videos about how to testing precious metals:
How to test gold, silver, & platinum using a kit
How to test gold using an acid kit
How to test for real silver
Using the RS Mizar Electronic Gold Tester