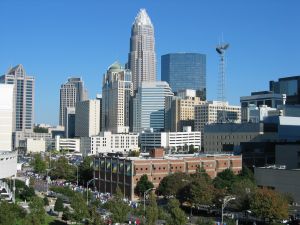 There are a lot of stores where you can find precious metal buyers and sellers in Charlotte, North Carolina.  They will offer you top dollar for your gold and will offer you great customer service.  For those who find themselves suddenly lacking in cash and would like to have an easy way to find some cash, you can sell any of your gold items to the stores that will be mentioned below.  These stores are usually open from Monday to Saturday, from 10 AM till 5 PM. You can visit them during those times and have your jewelry and other gold items assessed for their value with no obligation to sell it to them.
The first that we will recommend is the Perry's Fine, Antique and Estate Jewelry.  This store not only buys gold but also sells them.  So if you have any jewelry that still has a high aesthetic or artistic value, they may buy it at a higher price than its gold scrap weight. They also have a wide customer base throughout the US which gives them a capacity to pay for more for any gold item that is brought to them. They will also pay for any gem that may come along with it.  The prices are usually set with the current market value of gold in the market.  This is one assurance that you will get the most out of your gold. Perry's is one of the best precious metal buyers in Charlotte and they also have a reputation for being trusted and honest gold dealers.
There are also other places where you can take your gold to where it will fetch a good price such as the Karat Patch Jewelry Inc, which also buys gold at current market price; the Gold Valley of North Carolina, which has a good reputation for buying pieces all over the United States; the Cascade Refining, which offers top gold price with a deduction on the refining fees for scrap gold; and the Carolina Pawn and Jewelry Exchange, where you can bring old, broken and unwanted precious metal items.
All of these stores will provide you with a good price although there may be slight variations per business as they all have different target customers or other additional fees.  But all in all, they are the best places where you can take your gold depending on what location or company would be to your liking.
You can find companies to sell your gold in Charlotte NC, at the following locations:
Perry's Fine, Antique and Estate Jewelry
4400 Sharon Road,
Charlotte, NC 28211
800-339-0734 / 704-364-1391
Gold Valley of North Carolina
5226 E Independence Blvd,
Charlotte, NC 28212
704-537-8295
704-537-8295
Karat Patch Jewelry Inc
901 Providence Rd,
Charlotte, NC 28207
704-334-3188
704-334-3188
Cascade Refining
4314 Park Rd,
Charlotte, NC 28209
704-525-4646
Carolina Pawn and Jewelry Exch
4201 Monroe Rd,
Charlotte, NC 28205
(704) 375-1288
Brownlee Jewelers
212 South Tryon St # 160
Charlotte
704-374-0100
www.brownleejewelers.com
Brownlee Jewelers
4147 Park Road
Charlotte
704-527-1717
Brownlee Jewelers
8546 University City Boulevard
Charlotte
704-593-0888
Videos of gold buyers located in the Charlotte NC area:
Perry's Gold Mine Cash for Gold Charlotte, NC
Brownlee Jewelers – Top Dollar for all your Gold, Silver, Diamonds and Coins