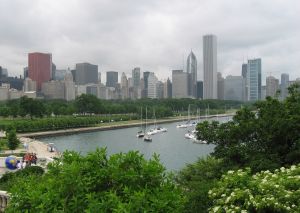 With the increase in gold prices, a lot of people are thinking if it would be a great idea to sell their valuable precious metal items in Chicago, Illinois which is one of the best places to do it. Aside from the high-tech way with which most sellers do business in Chicago, they also have a lot of friendly dealers compared to other states. You can just walk in at any of the stores in the area and they will give you a good welcome for any of your gold selling needs. It is not a hard thing to sell gold in Chicago, and if you select gold buyers with a good reputation you can get well compensated for your trade.
There are several ways in which you can do this; you can either go visit some of the gold dealers in the area which would mostly be involved in buying and selling gold and also you can try by sending them through the mail by filling-up a form on the internet. There a lot of gold buyers who conduct business using the latter form and many have found them reliable and also giving a fair price for their jewelries.
Some of the better gold buyers that you can check out are the Cook County Gold Buyers, which uses an online format for buying gold or through personal meetings that you can arrange at your own comfort. There is also the Royal Jewelers which can provide a more professional service and ambiance. They are aimed at more high-end clients but they also serve the more average gold sellers. They accept any type of gold whether it be old or worn out.
One of the tips in selling gold is that you should not sell to the first dealer that you come into contact with. Go through several of them in different areas, sometimes even differences in branches itself can give you a better deal although they are from the same company, and you will be able to find the best price for your valuables. It may entail more work for you but the end results would be far better than if you didn't try at all.
The above mentioned gold sellers will provide you with an assessment of how your gold would be priced even giving you the breakdown. A lot of other stores may give you a bit less than what they offer since they are only small-scale precious metal buyers and sell the items that they buy afterwards. If you are interested in selling your gold at these stores, here are their locations.
Directory of the best places to sell gold in Chicago Illinois:
A-1 Jewelry & Coin
1827 W. Irving Park Road
Chicago, Illinois
773-868-0300
Royal Jewelers & Loans
428 South Clark Street
Chicago, IL 60605
Tel: 312-427-6542
Cook County Gold Buyers
(773) 490-9828
A&R Estate Buyers
1445 W. Belmont Ave.
Chicago, IL
312-209-2727
A-Royal Pawn Shop
428 S. Clark Street
Chicago, IL 60605
Videos of gold buyers in the Chicago Illinois area:
A-1 Jewelry & Coin – Chicago, IL
Royal Jewelery & Loans
Cook County Gold Buyer