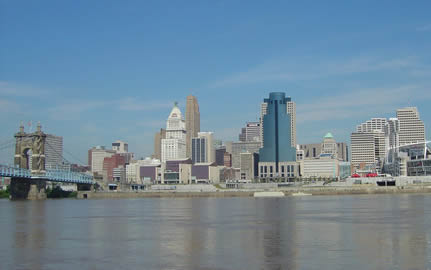 If you wish to find a reputable gold buyer in Cincinnati Ohio, here are some places that you should check out.  With gold being at near the highest rate in the last two decades, today may be the best time to sell any unwanted gold, precious metal scrap, or jewelries that you may have at home.  Aside from the ease with which you get your cash, you also earn a lot from your trade-in to help pay for any expense.  People have always wondered how they could get an honest and fair appraisal for their gold without having to send them to somebody who is either unknown or is too far away giving you a lot of risks for the safety of your item.  With professional dealers nearby, you do not have to worry and can get an easy appraisal before selling your gold in Cincinnati.
One of the companies with a good reputation is the American Trading Company which has been in operation since 1982.  They are a leading company when it comes to gold trading and you can bring to them any precious metal item such as old or broken jewelries, gold bullion, coins, scrap or dental gold.  They buy gold in any karat and weight even up to whole estate collections.  They are a BBB accredited company so you can be sure that they are a trustworthy option.
American Gold Buyers on the other hand was established in 1946.  What is good about this company is that they have plenty of branches to serve their customers.  They are one of the largest dealers when it comes to precious metals and so they can pay you at the current market rate of gold. They buy broken, scrap, and gold dental fillings and coins.  All of their branches have secure locations to ensure the safety of their clients.
The JS Gold and Coin specializes mainly in buying gold coins.  They have their own professional numismatist and all of their staff is friendly yet professional.  You can go to them if what you would like to have is a gold party for a fundraising project or if you are a gold dealer and would like to sell your gold. They have their current rates for dealers on their website so you can be sure that they are not hiding anything from customers. All of their prices are based on the current market rate and will give you a fair price for your gold.
You can sell gold in Cincinnati Ohio, at these locations:
American Trading Company
americantradeco.net
3236 W Galbraith Rd, Cincinnati, OH 45239
513-385.6789
American Trading Company [Harrison Location]
3621 A Harrison Ave, Cincinnati, OH 45211
513-661.3633
American Gold Buyers
americangoldbuyers.net
10798 Montgomery Rd. Cincinnati, Ohio 45242
513-681-GOLD(4653)
American Gold Buyers [Colerain Ave Location]
9814 Colerain Ave. Cincinnati, Ohio 45251
513-542-GOLD(4653)
American Gold Buyers [Beechmont Ave Location]
451 Ohio Pike(Beechmont Ave) Cincinnati, Ohio 45255
across from Cherry Grove Plaza
513-753-GOLD(4653).
American Gold Buyers [Glenway Ave Location]
6137 Glenway Ave. Cincinnati Ohio 45211
513-471-GOLD(4653)
across from Western Hills Plaza
JS Gold & Coin
jsgoldandcoin.com
7322 Kenwood Rd., Cincinnati, OH 45236
513-208-2615
Coins Plus
225 E 6th St, Cincinnati, OH 45202
513-621-1996
Videos of gold buyers in Cincinnati, Ohio:
American Trading Company
American Gold Buyers
JS Gold & Coin