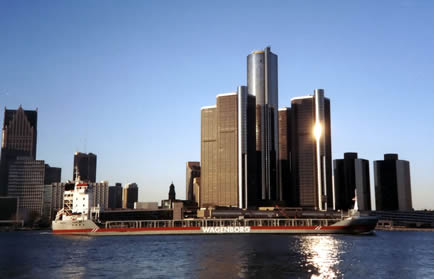 If you wish to sell gold items in Detroit, Michigan or the surround area, here are some stores which can best cater to your needs.  These businesses offer professional service and the best prices that you can find in the Detroit area and also honesty and integrity with your appraisal. You can rest assured that when you visit these stores, they are there to provide you with the best prices that you can get for your valuable item.  Some of the stores that you can go to are the Valley Goldmine, the American Cash for Gold, and the American Jewelry and Loan.  According to online reviews at this time these companies are the best when it comes to service and top payout for gold.
The Valley Goldmine is of course one of the largest gold buyers in the Detroit area and they always offer the best prices for those who would like to sell gold.  One of the best aspects with this company is their integrity and professionalism with the way that they handle their transactions.  It is one of the things that you will notice once you step inside their store.  Aside from that, the store is also secure for such business transactions.  They have professional gold testers and so you can be sure that you can have accurate prices for your gold.
The American Cash for Gold offers to buy any precious metals such as gold jewelry and scrap gold.  They have a very convenient location which you can visit.  You can walk-in to their stores and have an offer for your gold after they have appraised it for free.  They are members of the Better Business Bureau and you can be assured of a fast and friendly service when you visit their store.  You can also mail-in your jewelry if that is what you want.
The American Jewelry and Loan has been buying gold for more than four decades already.  If length of experience is what establishes a company, then this business is definitely a good candidate for it.  The showroom of this store would surely impress you and give you a hint of their buying ability from the market.  They have a certified gemologist in their premises who can give you the best appraisal for your valuables.
Before you sell any of your gold, jewelry, or precious metal items it's always a good idea to get several different quotes to ensure you are getting the best price. If you are trading in a few different gold items you should consider separating them by their karat weight. This way you will know you are not getting the same trade in value as lesser pieces. You can have the store clerk break-down and explain the payment process to you for each individual karat weight peice so you know exactly what each item is worth.
You can sell gold in Detroit, Michigan at these stores at the following locations:
Valley Goldmine – Detroit Office
100 West Big Beaver, Suite 200, Troy, MI 48084
248-971-3300
American Cash For Gold
7447 Michigan Avenue, Detroit, Michigan 48210
313-841-4444
American Jewelry and Loan
20450 Greenfield Road, Detroit MI 48235
313-345-4000
Southgate Goldmine
14432 Northline Rd, Southgate, MI 48195
734-281-1333
AAA Diamonds and Gold
13928 Michigan Ave, Dearborn, MI 48126
313-846-4653
Garden City Exchange
32555 Ford Rd, Garden City, MI 48135
734-525-0777
Coins & Stamps Inc
17658 Mack Ave, Grosse Pointe, MI 48230
313-885-4200
A & E Gold & Silver Exchange Inc
26410 Ford Rd 48127, Dearborn Heights, MI 48127
313-914-3759
ACE Diamond Jewelers
13840 Michigan Ave, Dearborn, MI 48126
866-289-8120
Check N Gold
18855 Eureka Rd, Southgate, MI 48195
734-225-7676
American Bullion and Coin Company
Serving Detroit and Surrounding Area
866-975-4292
AMK Exchange
15084 Middlebelt Rd, Livonia, MI 48154 734
421-3333
Videos of gold buyers in Detroit, Michigan:
American Jewelry and Loan
Southgate Goldmine – Jewelry Buyers
AAA Diamonds & Gold
ChecknGold and Gold Refinery