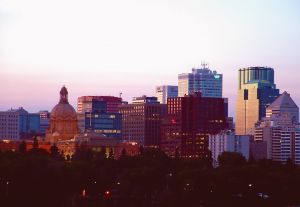 Now could be the right time to sell your gold items to buyers in Edmonton, Alberta Canada as the gold price has recently risen through the years.  Those who are looking for easier ways to find financial aid can get their help by going through their old stuff and look for items which may contain gold in them.  Gold is usually valued for their purity and weight and not for their condition.  So it is never a cause of embarrassment to sell your old and used gold to those who would like to pay for them.
One of the places where you can sell your gold to in Edmonton is Beck Gold & Diamond brokers.  The company has over 20 years of experience in gold selling having begun in 1989 with this type of business.  They are always looking for gold as they are providers of this material to local jewelers in the area.    They have an expert Gemmologist on-site who is able to give an accurate appraisal as well as fair and honest prices for your gold.  They only require you to provide a photo ID as well as another which should be both issued by the government.  They work closely with the Edmonton police and stolen goods would not be accepted.
Another good dealer is the HighLow Jewelers which had been in business for the past 35 years.  They offer on the spot weighing and testing for those who would like to sell their gold.  They buy any type of gold scrap especially old and broken jewellery.  They can also accept trade-ins for the items that you bring.  They have the latest equipments for gold testing which are able to give you fair and honest estimates of your item's worth.  They do not accept mail-ins as they think that is it not safe for their customers.
The last is the Canada Gold Buyer which allows clients to sell their gold through GoldPak.  Just request this pack from them and then mail your items through them.  They will offer you a deal once they receive the pack and will pay you through cheque. The business is both Canadian owned and operated which allows them to provide services with the areas values.  They offer personalized services for those who would like to do business with them as well as secure transactions in every sale of item.
You can contact these gold buyers in Edmonton, Canada through the following contacts:
Beck Gold & Diamond Brokers
www.beckdiamonds.com/
Telephone: (780) 474-7447
After Hours: (780) 966-1930
E-mail: admin@beckdiamonds.com
Canada Gold Buyer
www.canadagoldbuyer.ca
13907 136 Street,
Edmonton, AB T6V 1Y5
(780) 628-6889.
Millbourne Market Mall
www.highglowjewellers.ca/
122 Millbourne Mall NW
76 St 38 Ave
Edmonton, AB T6K 3L6
Phone (780) 461-0942
Fax (780) 461-0942