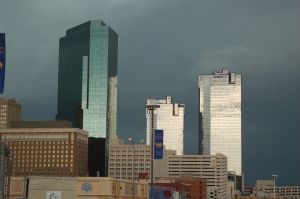 Selling gold in Fort Worth, Texas may a great way to get extra money if you run out of cash and are in need of a fast way to get it. There are plenty of stores that you can go to where you can sell any gold item and get paid for it right away. They will value your gold at the current market rate and will appraise it for free without the need or obligation to sell the item. It is usually the method in other gold dealers, to try to pressure you to sell your gold but it is not the way with professional gold buyers. You can either have old gold coins, jewelries, antique stuff and other items that may be made of gold – you can bring all of them to the dealers that we will recommend and they will pay the most price for it that you can find in Fort Worth.
One of the dealers that we recommend is the Exchange Gold Store, which has direct connections with the United States Gold Refineries. This being said, it allows them to pay more for gold items that are brought to them as they have a contact with their own refiner and would cut up some of the costs. Aside from that, they have a wide range of customers, which assures them of having enough cash to spend on buying gold. They are also top rated by the Better Business Bureau for their excellent services.
You can also visit the Ft. Worth Gold & Silver Exchange. They buy almost any type of gold scrap that you have be it old jewelries, coins, and other memorabilia as long as it contains gold, they will pay you for it at top price. One of the advantages of selling to this dealer is that they have enough experience and business stability, which will assure you that they can pay for your gold at what value it, could be worth. They have good reviews from customers and is one of the reasons why they are still operating as a business. There is also the Southwest Gold & Silver Exchange, which is known for their honest transactions and their professional services for clients. They are a well-known company for buying precious metal pieces like scrap, coins and jewelry and have also been regarded well by their customers when it comes to their services and pricing.
If you are thinking of selling Gold in Fort Worth Texas, here are their store locations:
The Exchange Gold Store
2901 Western Center Blvd., Suite 120
Fort Worth, Texas
817-232-1245
Ft. Worth Gold and Silver Exchange
1222 Jacksboro Hwy
Fort Worth, TX 76114-2306
817-320-8371
Southwest Gold & Silver Exchange
3427 W 7th St
Fort Worth, TX 76017
817-735-1451
Cowtown Gold & Silver
913 University Dr
Fort Worth, TX 76107-2936
817-877-4653
Dr. Gold Buyers
4151 Belt Line Rd Suite 127
Addison, Texas
972-980-9000
If it's Gold it's Sold
5620 Lyndon B Johnson Freeway #400
Dallas
972-387-4053
Videos of gold buyers in the Fort Worth Texas area:
Fort Worth Gold And Silver Exchanger – Ft. Worth, TX
Dallas Gold and Silver Texas – Buyers of Gold Coins and Jewelery
Cowtown Gold & Silver – Fort Worth, TX