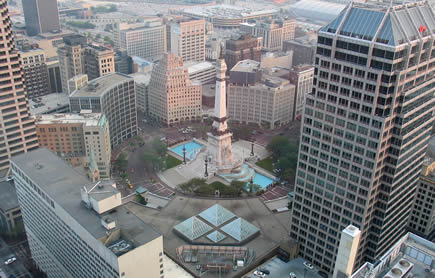 You can now sell your gold valuables in Indianapolis, Indiana without worrying if you are going to get the best prices for your gold or not.  You can forget many of the hassles of finding the right dealer to go to by selecting trusted buyers with a good reputation to do business with .  On this page were are giving you the best options we have found if you happen to be short in cash and are looking for a fast way to get the cash that you need. Before you sell your gold it's a good idea to get a few quotes to ensure you get the most money for your precious metal valuables.
There are several establishments in Indianapolis that you can visit in order to sell your precious metals and jewelry pieces: the Moyer Fine Jewelers, the Midwest Jewelry and Coin, and the Master Jewelers.  They are all accredited businesses and have been highly rated by their customers to provide excellent services for their patrons. You can just drop by at their establishments without the need for an appointment.  You will be received cordially and will be provided with the best services by their experienced and knowledgeable staff.
The Moyer Fine Jewelers is proud to give their customers excellent services through their professional appraisers and their relaxing ambience.  They pay their customers with the current market rate for gold and will even pay you 10% of the proceeds of the gold party that you will host.  You can sell your gold to them in two ways: by hosting a gold party and by selling directly to their store.
The Midwest Jewelry and Coin is more than a decade-old business that deals with selling and buying gold and gold jewelries.  They are a premier estate buyer in the Indianapolis area and are known for their excellent prices and friendly customer service.  They are also proud to be highly referred to by other jewelers and dealers in the area when it comes to buying gold.  This only means that they have a good reputation with businesses in the same category.  The owner has a Christian background and is happy to help people out through tough times by paying them more than what their items can sometimes cost.
Master Jewelers has been in business for more than two decades now being established in 1987.  What they offer in the jewelries that they sell, is also how they provide services for gold sellers who drop by their store – excellence. Being keen when it comes to quality service, you are assured to have the best experience in gold selling.  They will inform you about the appraisal of your gold and the various factors that will affect how the price will turn out.
You can sell gold in Indianapolis by visiting these stores at the following addresses:
Moyer Fine Jewelers
14727 N Meridian Street
Carmel, IN 46032
317-844-9003
Midwest Jewelry & Coin
1340 E. 86th Street, Suite 52
Indianapolis, IN 46240
317-844-9596
Master Jewelers
8150 Bash St
Indianapolis, IN 46250-2000
www.master-jewelers.com
317-845-5004
Lost Dutchman Rare Coins
4983 North Franklin Road
Indianapolis
ldrcoins.com
317-545-7650
Hoosier Gold Buyer
5038 Kentucky Avenue
Indianapolis
317-830-8025
Castleton Square Gold and Silver
8545 Us 31 S
Indianapolis, Indiana
317-841-9200
Michaels Jewelry
6251 Winthrop Ave
Indianapolis
317-253-9505
Universal Gold & Silver
4320 E. 10th Street
Indianapolis, IN 46201
317-351-1900
Zebone Jewelry Co
3847 Moller Rd, Indianapolis, IN 46201
Honey Creek Plaza Shopping Center
317-299-7580 ?
Videos of gold buyers in Indianapolis, Indiana:
Midwest Jewelry & Coin Exchange
Master Jewelers Indianapolis
Lost Dutchman Rare Coins
Hoosier Gold Buyer – Indianapolis, IN