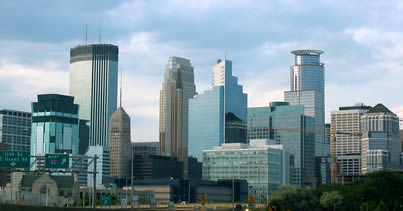 You can try selling your gold items in Minneapolis, Minnesota for your instant cash needs.  Since gold is now in a very high value in the market, now would be one of the best times to gain some profit from your old and unwanted jewelries and other precious metal personal belongings.  A lot of people have been very pleased to learn that their gold can actually be worth so much than what they had thought.  You can do that also and gain profit from your old, unwanted stuff.
You can sell any item that contains gold to gold buyers in Minneapolis, and they will offer you instant cash on the spot. There are also mail-in gold buyers who pay by check if in case you choose to mail-in your items.  However, you would probably get payment after a week and you will get the final total amount for your items after they have received your valuables in the mail and approved of them. Also note that these mail-in gold buyers typically pay much less than over the counter buyers. If you are thinking of selling your gold, you can visit the Twin Cities Gold and Silver Exchange which is one of the oldest gold buyers in Minneapolis.  The business has been operating for more than two decades now and they are known for their high appraisals for scrap gold.  They have an excellent staff who will educate you about the whole process of appraisal and selling. They pay for what your item is really worth unlike other gold buyers and will pay an additional value for any gem or precious stones that may be included in your old jewelry.
The Elequent Jewelry Inc. is also one of the best buyers in Minneapolis.  The store is family-owned and is operated also by some of the family members.  Hence, you can expect a more local and friendly approach to business while being professional as well. The store was opened in 1986 and they have been paying top prices to clients who bring in their gold to them.  They have a small location and thus do not incur a lot of overhead expenses for their operations allowing them to pay more for gold.  They have an experienced and friendly staff and a comfortable ambiance as well making your visit to their store really memorable. They have their own gemologist and they can also provide you with quotes for gold prices over the phone. So if you have gold scraps, coins, and estate jewelries, you can bring them to this store for a good deal.
Where to sell gold Minneapolis, Minnesota
Twin Cities Gold and Silver Exchange
4813 Excelsior Blvd
St Louis Park, MN 55416
952-926-5175
Elequent Jewelry Inc.
4835 Minnetonka Blvd.
St. Louis Park, MN 55416
phone: 952-920-3113
fax: 952-259-0053
The Jewelers
2902 Pentagon Dr
Minneapolis, MN 55418
612-356-2911
Wholesale Gold & Diamond Distributors
10 South 5th St Ste 5
Minneapolis, MN 55402
612-235-6059
American Rare Coin & Collectibles
7900 Xerxes Ave S Suite 140
Bloomington, MN 55431
952-314-5448
Grove Coin & Investment
Woodbury, MN 55125
651-738-8352
NTR Metals, LLC
6106 Olsen Memorial Hwy
Golden Valley
(763) 545-4653
Uptown Pawn on Lake Street
301 West Lake Street
Minneapolis, MN
www.uptownpawn.net
612-823-3001
Pandora Jewelry
127 N Garden,
Bloomington, MN 55425
pandoramoa.com
952-252-1495
Wixon Jewelers
9955 Lyndale Ave S,
Minneapolis, MN 55420
wixonjewelers.com
952-881-0317
Yusra Jewelry
2910 Pillsbury Avenue South,
Minneapolis, MN 55408
612-822-1378
Timothy's Fine Jewelry
Suite 130, 10400 Baltimore St
NE, Blaine, MN
timothysfinejewelry.com
763-754-1620
Avi's Pawn & Jewelry
6414 Nicollet Ave
Richfield, MN
www.avispawn.com
(612) 866-0027
Videos of gold buyers in Minneapolis, Minnesota:
The Jewelers – Minneapolis, MN
Wholesale Gold & Diamond Distributors – Minneapolis, MN
Wixon Jewelers