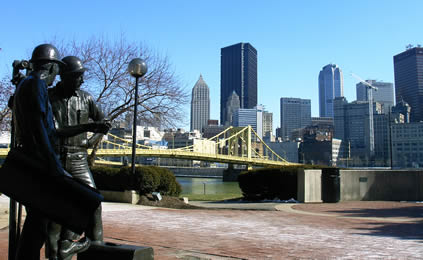 You can now try selling gold in Pittsburgh when you run out of money and need to get it fast.  The gold dealers in Pittsburgh will give you a fair and honest price for your trade as well as provide you fine customer service as well.  Here are some of the best gold buyers in the area where you can go to and get top dollar for your precious metal valuables: Werner Jewelers, Pittsburgh Gold LLC, The Gold Buyers of Pittsburgh, and the Embassy Diamond.  They all buy gold in whatever karat and in any form so there is no need to worry about the type of gold that you can bring in for trade.  Just drop by their stores and you will surely be received by their courteous staff and be answered with any inquiry that you may have regarding the sale of gold.
Werner Jewelers is an established gold buyer having started their business since 1969.  With that record, they have the capacity and the knowledge on how to deal best with buying gold.  The owner is a certified gemologist and has the know-how in dealing with gold.  They have a well-experienced staff who can accommodate your questions regarding your gold.  You can bring to this store any outdated and broken jewelry that you want to part with and even scrap gold.
The Pittsburgh Gold LLC is an internationally recognized buyer of gold. They have been in business for more than 20 years now and with that experience, they are able to better educate their customers so they can make better choices when it comes to selling their gold.  They are known for their honest appraisals and their credibility as dealers.  They buy gold in any form and quantity and in any karat.
The Gold Buyers of Pittsburgh is another ideal place to go as they offer free appraisals on any item that you bring to their store.  They will not pressure you to sell your gold to them.  They do not have minimum requirements as to the quantity of gold that you can sell so you can just walk to their store and have your item appraised.
The Embassy Diamond is a family owned business and has a well educated staff and their own gemologist. They specialize in buying vintage gold but they also buy scrap gold, broken and unwanted jewelries and other precious metal items. They have a very convenient location which is at the center of the cultural district in Pittsburgh.
You can sell gold in Pittsburgh Pennsylvania by visiting these stores at the following locations:
Werner Jewelers
1130 Perry Highway, Pines Plaza
Pittsburgh, PA 15237-2142
timg@wernerjewelers.com
Fax: 412-367-0510
412-367-2328
Pittsburgh Gold LLC
819 Liberty Ave. Pittsburgh, PA 15222
info@pittsburghgold.com
pittsburghgold.com
412-281-1958
The Gold Buyers of Pittsburgh
Ross Township
7206 McKnight Road
Pittsburgh, PA 15237
412-837-2956
Embassy Diamond Jewelry Store
713 Liberty Avenue
Pittsburgh PA 15222
embassy.diamond@gmail.com
embassydiamond.wordpress.com
412-281-2422
Bella Moda Jewelry
6134 Saltsburg Rd
Pittsburgh, PA 15147
412-628-3142
Heritage Jewelers
86 Fort Couch Rd
Pittsburgh, PA 15241
412-833-0404
The Coin Exchange
143 Sixth St
Pittsburgh, PA 15222
412-261-9000
Pittsburgh Coin & Jewelry Exchange
717 Liberty Ave Rm 208 Clark Bldg
Pittsburgh, PA
412-281-1336
Videos of gold buyers in Pittsburgh, PA:

Werner Jewelers
Bella Moda Jewelry
Heritage Jewelers
The Coin Exchange
Pittsburgh Coin & Jewelry Exchange