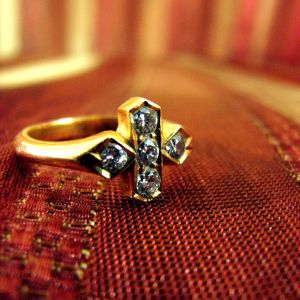 There are good places to bring your unwanted and old gold jewelry if you are looking for a place where you can sell gold in Rochester NY.  A lot of shops have sprouted in the area offering to buy your gold for top dollar when they actually pay only about 25% of what your gold can be actually worth.  These stores that are listed here have a reputation of providing you more than that, and are known for giving you an excellent experience when you visit their location.
The Source Jewelers are one of the best places to check out when you have old and scrap gold that you would like to sell.  They offer free appraisals for gold items without the pressure to sell it to them.  Each of them will be tested and examined for their karat or purity and also their weight.  They will offer you a price based on the spot or current price of gold in the market.  They are locally owned and operated so you can expect that friendly and amiable service common to local businesses.  They are community oriented and possess the common values for quality, courtesy, integrity, and value.  Their shop offers you a comfortable and secure location to sell your gold.
Roc Gold buys broken and unwanted gold from clients at the current market price.  They pay top dollar for any item that you bring to them from dental gold to gold bullion items.
The Rochester Gold and Jewelry Exchange is a jewelry broker for quite some time now.  They offer excellent customer service together with top prices for gold.  They offer free verbal appraisals without the need to set an appointment with them. They provide instant payment through cash or check when you agree with their price.  Their commitment to customer service makes them one of the best shops to go to when selling gold.
The Jewelry Lab buys gold jewelries even those with broken or missing pairs.  They buy items in whatever condition they may be since gold is valued for its weight.  They have 25 years of experience in the business and they welcome walk-in customers and clients and they buy, sell, or trade any item that you bring to them.  You can be sure to get a good information about the selling of gold as they describe the whole process while it is being done.
You can sell gold in Rochester, New York at the following locations:
The Source Jewelers – Monroe Avenue Location
3300 Monroe Avenue, Rochester, NY 14618
http://www.thesourcejewelers.com
585-586-9145
The Source Jewelers – West Ridge Road Location
535 West Ridge Road, Rochester, NY 14615
585-621-6280
The Source Jewelers – 2nd West Ridge Road Location
2147 West Ridge Road
Rochester, NY 14626
585-225-5445
Rochester Gold and Jewelry Exchange – Rocgold
1839 E Ridge Rd, Rochester, NY 14622
http://www.jewelrylabny.com/
585-730-7714
Jewelry Lab
354 Greece Ridge Center Mall, Rochester, NY 14626
585-502-7830
Hollywood Treasure
1144 N Clinton Ave, Rochester, NY 14621-4428
585-323-2174
Jewelry And Coin Exchange
1964 Ridge Rd W, Rochester, NY
585-227-6370
Videos of gold buyers in Rochester NY:
The Source Jewelers Rochester NY
Rochester Gold and Jewelry Exchange – Rocgold
Hollywood Treasures – Rochester, NY