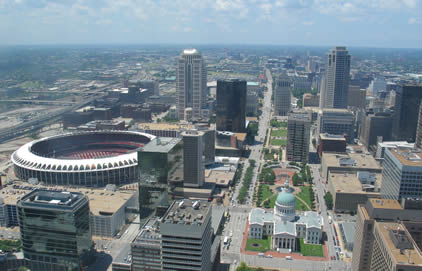 You can now easily find professional gold buyers in St. Louis, Missouri if you are in need of an immediate source of money.  There are various establishments where you can bring your precious metal items in order to sell them and they will give you a fair and honest price for what you have.  They vary from those who have been dealing with gold for decades already, to those who have just started in the business of buying gold.  Whichever you choose, you will be sure to have the needed money in no time at all. You can check out the St. Louis Gold Buyers, the Missouri Gold Buyers and Jewelry, the Creve Coeur Watch & Jewelry, and Diana's Vault.
St. Louis Gold Buyers have been in the business for more than 27 years already.  They are from the renowned Vincent's Jewelers who are makers of exquisite and fine jewelries. What this company boasts of is their professionalism, respect for their customers, and the equality with which they treat all types of customers who enter their store.  They are locally owned and operated so you can expect a form of friendly service which is common in local businesses.  You can choose from several options when selling your gold: on the spot purchase, consignment, trade-in, and by having a broker for your item.
The Missouri Gold Buyers and Jewelry specializes in buying broken and old jewelry which the owner does not want to keep.  They pay items at the current market rates for gold and you would need to drop by their store in order for them to appraise your gold.  There is no appointment needed. The Creve Coeur Watch & Jewelry, hosts gold parties for those who would like to sell their gold. They are a good option if you have plenty of jewelries to sell and would like to raise funds for a particular charity.  They will provide free jewelry cleaning, inspection and even refreshments during the party.  They will donate 10% of the total costs to your organization and will pay $5 for high-end watch batteries that you will bring along.
Diana's Vault specializes in coin collecting and has been into gold buying and selling for over 20 years.  The owner is a well-known coins and jewelry dealer in the United States and the business is locally owned and operated. They offer top dollars for your jewelry items and will pay you outright when you agree to sell your gold to them.
You can sell gold in St. Louis at these stores at the following locations:
St. Louis Gold Buyers
at Vincent's Jewelers
11733 Olive Blvd
St. Louis  MO   63141
gold@vincentsjewelers.com
314-989 9030
Missouri Gold Buyers & Jewelry  ?
4611 S Kingshighway Blvd
St. Louis, MO 63109-2928
mogoldbuyers.com?
314-351-4653
Creve Coeur Watch & Jewelry
11006 Olive Blvd.
St. Louis, MO 63141
314-567-3530
Diana's Vault
9321 Midland, St. Louis, MO 63144
diannasvault.com
314-426-9000
Private Line: 314-537-1961 (24-hour)
Scotsman Coin and Jewelry, Inc.
11262 Olive Boulevard
St. Louis, MO 63141
314-692-2646
Park Coin
5605 W 36th Street
Saint Louis Park, MN 55416-3043
952-925-1819
Crestwood Coin & Jewelers
10021 Watson Rd
Saint Louis, MO 63126-1828
314-821-7878
Videos of gold buyers in St. Louis Missouri:
St Louis Gold Buyer/Vincent's Jewelers
Creve Coeur Watch & Jewelry
Park Coin – Saint Louis Park, MN
Crestwood Coin & Jewelers