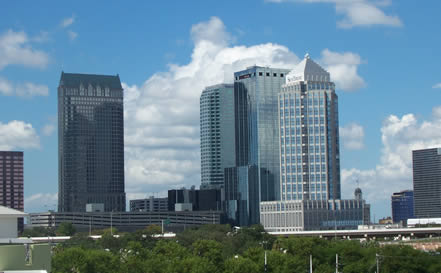 There are now many ways you can trade in your gold valuables in Tampa, Florida to help generate emergency cash .  With a lot of precious metal dealers growing in the area, there are now more choices where you can sell your gold and cash in on the record metal prices.  A few of the gold buyers that have positive reviews, and good track record are Jazz Jewelers, Arnold's Jewelers, the Capital Pawnshop and Yates Jewelers.  All of these stores offer you a fair price for gold and ensures a friendly and no-pressure transaction when you come to their stores in Tampa.
Jazz Jewelers will let you gain a desirable sum from any of your unwanted gold items that you may have left lying around at your home unused.  They pay top dollar for broken chains or necklaces, rings, medals, brooches, bracelets or pins in whatever karat they may be.  They also buy grills, dental gold, charms and lockets.  You can bring to them broken or damaged gold items – the condition is not really important.
Arnold's Jewelers, is an older family operated entity when it comes to gold buying and they have been trusted for more than twenty years now.  They offer both a mail-in and personal gold buying option for customers.  They offer top prices for precious metal items in whatever condition and they have a friendly staff who will make your visit to their store memorable.
The Capital Pawnshop buys unwanted coins and gold jewelries that you may have.  With their secure location, they are able to serve their customers by giving the top dollar for any item that that they may bring in to their store be it old or broken.
Yates Jewelers is a family-owned and operated jewelry store which specializes in fine jewelry and in buying gold as well.  They are the oldest gold buyers in town and they are the most trusted also.  They offer an old-fashioned way of doing business so you can expect a more friendly and courteous treatment from their staff and owner.  You will be able to witness the whole appraisal process and they will also explain to you every step.  Their store has a very comfortable and relaxing ambiance and you will feel secure when you do business with them.  You can bring in any type of gold item that you have and they will appraise it for you.  If you do not agree with their price, you will not be pressured to sell your gold to them.  You will be treated with respect by their trained and experienced staff once you visit their location.
You can sell gold in Tampa, Florida at the following gold buyer store addresses:
JAZZ JEWELERS
1417 East Busch Blvd
Tampa FL 33612
Travis C. Owen
jazzjewelers.com
813-884-4800
Arnold's Jewelers
12293 Seminole Blvd.
Largo, Florida 33778
sell-gold-tampa.com
Arthur Yates and Sons Jewelers
1708 S. Dale Mabry
Tampa, FL 33629
813-253-2386
Capital Pawnshop
2525 East Busch Blvd,
Tampa, Fl 33612
capitalpawnvip.com
813-933-5555
Associated Watch & Jewelry Buyers of Tampa
3418 West Kennedy Blvd.
Tampa, FL 33609
813-288-0022
Top USA Gold Buyers
2101 North Dale Mabry Highway
Tampa
813-434-4222
Videos of gold buyers in Tampa, Florida:
Jazz Jewelers
Arnold's Jewelers Tampa
Arthur Yates And Sons Jewelers
Capital Pawnshop
Associated Watch and Jewelry Buyers Tampa