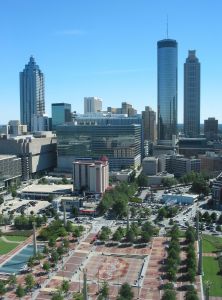 If you are wondering where the best places to try selling your gold in Atlanta, Georgia are, you do not need to worry.  We have a list of some of the best precious metal dealers where you can bring your gold items and get the most cash out of it.  Not all gold buyers will give you the best price for your gold so it would be wise if you can look for the best deal for your gold especially now that gold is selling for more than a thousand dollars per ounce.  You also need to find a buyer which will give you honest appraisals for your gold such as providing you with the proper karat and weight for your gold so as not to cheat you when it comes to the pricing.
To get the most out of your gold, you should have a standard with which you could know whether they are good dealers or not.  First and foremost should be their method of meeting with their customers.  Reliable gold dealers usually have a fixed business location and should have been operating for at least a few years now to prove that they have satisfied their past customers which helps keep them in business.  Next, their location should be at a secure area which is not prone to much crimes and is sufficiently secured against any.  They should also provide a comfortable ambiance for their customers while their items are being appraised.
Much of these standards can be found on the ATL Gold Buyers, the Diamond Graders of America, and at the Sell Gold Atlanta.  These stores have been in operation for years and have had excellent reviews from their customers.  You can bring almost any type of item that contains gold, as the metal is valued for the scrap gold percentage that they contain, be it old or worn out or are broken.  They have professional appraisers that will determine the purity of your items and also its weight with the best possible care.  The DGA also has their own special facilities for grading gems that may be included in your gold so you get a plus for your item.  These stores will pay the highest for your items in Atlanta and will give you also the best customer service while you wait.  They will help you in any way regarding the selling of gold.
[ad name="Content"]
Here are the best store locations to sell your gold in Atlanta, Georgia:
ATL Gold Buyers
http://atlgoldbuyers.com/
2900 Peachtree Rd #203
Atlanta, GA 30305
404-812-9808
Sell Gold Atlanta
3455 Peachtree Rd NE
Atlanta, GA 30326
404-995-6782
Larry Jackson Rare Coins
4920 Roswell Road Northeast
Atlanta, Georgia
404-256-3667
Diamond Graders of America (DGA)
(678) 973-4863
5982 Roswell Road
Atlanta, GA3032833.918345-84.379056
http://www.dgausa.com
A&Y Gold Buyers
3375 Holcomb Bridge Rd
Norcross
(at Jimmy Carter Blvd)
(678) 702-9981
Sell gold in Atlanta Georgia videos:
A&Y Gold Buyers of Atlanta